Learn how easy saving money at Whole Foods without going home empty-handed can be.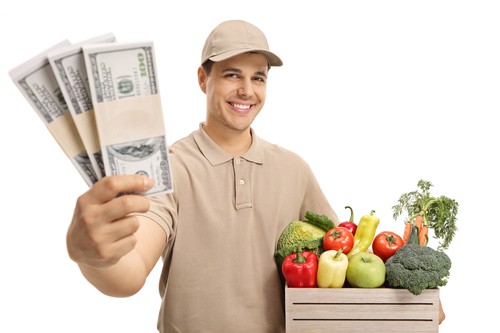 Is saving money at Whole Foods while actually buying what you need just a dream? Your number of options is surprising. Planning ahead will always help you save the most money, but you can easily lower your costs without it. That's true even for last-minute grocery runs. Get started saving at Whole Foods when you follow these tips.
Put Amazon Prime to Work
If you like to shop online, you've probably heard of Amazon Prime. The online mega-retailer reward program costs:
$119 per year/ $12.99 per month for Amazon Prime or
$59 per year/ $6.49 per month for Amazon Prime Student
You can find deals on the membership. It's free when you get a Prime credit card. There are free trials for basic and student accounts. Whenever Amazon releases a new, popular show they offer discounts on Prime membership. There's a discount available to people on Medicaid and EBT too.
Membership comes with a seemingly endless number of benefits, including:
Free two-day shipping on most items
Free two-hour shipping on select items in select locations
Free speedy delivery on restaurant orders in certain locations
Release-day delivery for new books, games, movies and other new products
Access to Netflix-counterparty Prime Video
Free online storage options
Special offers and more
Since Amazon bought out US Organic Certified grocery chain Whole Foods in January 2017 – for a cool $13.7 billion – Prime members received certain perks, including special deals in Whole Foods stores and an additional 10 percent off yellow-ticket sales items. Simply link your phone number to your Amazon Prime account and give it to the cashier at checkout. You can also download the Whole Foods app, link your Prime account and scan throughout the store for discounts.
Get an additional 5 percent back on your grocery bill when you pay with an Amazon Prime Rewards Visa credit card. (Don't have Prime? The card will still earn you 3 percent cash back at Whole Foods!)
Put Secured Credit Cards to Use While Saving Money at Whole Foods
A secured credit card is different from a prepaid card, but they have some similarities. You deposit money into a secure credit card account. Your available balance matches the amount of your deposit, but like a typical credit card, you must pay for your purchases every month. After several months, the company may graduate you to an unsecured card and return your deposit or refund your deposit if you close your card.
Secured cards are an excellent way to establish or improve your credit score. Used strategically, they can also save a ton on your grocery purchases!
The best secured card for buying groceries is currently the SunTrust Secured Credit Card With Cash Rewards. You earn 2 percent cash back on the first $6,000 you spend in a grocery store during the year. Beyond that point, they revert to the 1 percent earned on all other purchases. Depending on whether you have this cash reinvested into your account, you can earn 10 percent cash back or higher. The more money in your account, the more loyalty bonus cash back you earn — up to 50 percent of each purchase!
Buy Discounted Whole Foods Gift Cards
See? We told you saving at the grocery store didn't have to be mind-boggling. All you need is a few minutes for preparation. Sites like Cardpool and Gift Card Granny allow you to save up to 5 percent on gift cards.
According to MarketWatch, shopping at Whole Foods is an average of 12 percent more expensive than shopping at other grocery chains. Using discount gift cards could save nearly $500 a year. Using an Amazon Prime account? A savings of over $800. A secured card with rewards deposited into your card's savings account? Over $1000. These are extremely simple steps anyone has the ability to do that require no coupon clipping.
Visit your nearest Title Tree store for more tips on saving money at Whole Foods – or if you need a little help making ends meet right about now.