There are plenty of strategies to create savings to be a stay at home mom.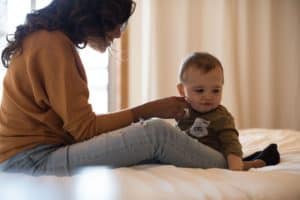 Being a new mother is exciting, so here are some tips and tricks for savings to be a stay at home mom. They won't necessarily replace the lost income of a stay at home parent, but they will help save money that can make being a stay at home parent possible.
Cook and Freeze Large Meals
When the baby is born, the household will require all hands on deck. Between taking care of the baby, work and sleep, there will be little extra time. So the idea of cooking a meal will be a luxury for most households. For a few lucky families, they may be able to rely on friends and relatives to cook for them. But for most, instead of spending precious sleep or work time cooking, they will be ordering food for delivery or making a processed food frozen dinner.
To help reduce the stress of cooking and save money on pre-made or delivered food, prepare meals ahead of time. A few weeks before the anticipated delivery date, cook up large batches of foods that will store well frozen and reheat fairly easily. For example, cooking up a casserole dish, then freezing individual servings will make it really easy to eat a home-cooked meal without spending the time and effort to do so. All you'll need to do is pull it out of the freezer and heat it up, whether it's with an oven or microwave.
Stock Up on Free Samples
Many parents are brand loyal and the makers of baby products and foods understand that. That's why they work so hard to get a parent to stick with a particular brand of baby food or formula. One way companies do this is to provide free samples. These may be available in a doctor's office or simply for the asking. All a parent will need to do is go to the company's website, put in their name and mailing address and voila! A week's supply of baby formula or a day's worth of baby food, for free.
Sign Up for Coupons
Another way manufacturers of baby products try to create a long-term customer is by providing coupons. It's a lot cheaper and easier to mail a coupon than it is to ship a tub of pureed apples or a small can of baby formula. Sometimes these coupons will make an item available for purchase at a local store for no cost. Other times, these coupons (or vouchers, in some cases) will take a significant amount of money off a higher priced baby item, such as formula. For example, makers of Enfamil or Similac will offer special vouchers that take $5, $10 or more off a container of formula. And all a parent has to do is sign up for free with the baby formula maker.
Buy Used Baby Clothing
Babies grow really fast, and a sleep sack or onesie may only be the right size for the baby for a week or two. Many babies will only use the particular article of clothing once or twice. That's one reason why you see so much used infant and baby clothing for sale. Take advantage of this by buying used baby clothing whenever possible. Good places to look include thrift stores, yard sales, and special baby flea markets. Instead of buying a brand new onesie for $8 or a sleep sack for $15, you can get either for $1 or less at a yard sale.
Borrow Baby Equipment or Buy Them Used
If you have a friend or relative with a piece of baby furniture or equipment they don't need, ask to either buy or borrow it. Something like a bassinet, feeding chair or breast pump are perfect for using secondhand. If you look around, you can probably find something used for purchase or that you can borrow. Just be careful with certain items. For example, with breast pumps, you can borrow the pump itself but may want to buy certain accessories, like tubing and bottles, brand new. Also, try to stay away from used equipment involved with safety, such as a crib or car seat. You don't know it's crash history or if there is a recall from the manufacturer.
Even if you're working at savings to be a stay at home mom, you may need a title pawn to help you in the meantime. Come on into Title Tree, and we can help you get the cash you need.