Spend less and live more starting today!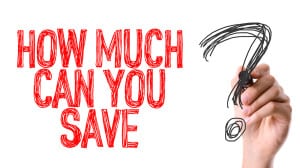 It's easy to spend less and live more once you adopt the right mental attitude. The words we say to ourselves form our feelings, and our feelings form our actions. Make sure you've got the right inner dialogue to support savvier spending, and you'll have no problems building up your savings while you're having a blast.
Ready to get started? Start every day with one of these frugal affirmations:
"I Like Saving Money"
According to the SuccessWithMoney.com, affirmations are an easy way to establish new spending habits because they replace our poor attitudes toward money with newer, more positive ones. Right now, you may be thinking, "I don't have enough money to save," or "What's the use? I can only save a little at a time." Those thoughts are responsible for your financial health, so you need something to replace them. "I like saving money," is a good place to start because it motivates you to do it just because you enjoy it.
"I'm Good with Money"
Do you consider yourself financially responsible? If not, why not? Did you develop that attitude once you were drowning in debt or back when you were a kid blowing your allowance on things an adult didn't feel was important? Many of our daily mantras can be traced back to negative things we heard in childhood. Ultimately, it's because of these ideas that we allow ourselves to make bad financial decisions. If you believe you're bad with money, you won't feel bad about bouncing a check or taking on overwhelming loan payments. Tell yourself you're good at managing your funds, and you'll find yourself making better choices. You'll also feel better about yourself for making them.
"My Net Worth Is Constantly Growing"
Your net worth has nothing to do with your value as a human being, but it is satisfying to know you've got a small fortune stashed away. Take pride in your bank balance. Over time, you'll be more inclined to make choices that make it even larger. You won't necessarily judge your balance against someone else's. Saving money is not a competition with anyone but yourself. Make it a challenge if you like, but don't forget to reward your ego when your methods are successful.
"I Balance My Budget Every Month, Making Adjustments That Count"
When life gets busy, it's easy to forget the small stuff, but it's these little habits that pave the road to success. By going over your budget from month to month, you see where your money is going. You can see when you're spending too much in areas you don't feel are important. It gives you the chance to make adjustments, so the next month you have more money going into savings and less going toward activities you don't really care about.
"My Smart Investments Make the World a Better Place"
Along with budgeting, charitable giving is one of the best financial habits to adopt. According to FreeMoneyFinance.com you can expect a boost in your mood – and in your income. While taking stock of any range of factors from family size to religion and education, people who make piety a priority wind up earning more every year. It's not simply a result of having more to give either. Studies show that the physical, financial act of giving lends itself to superior saving and spending habits. People who donate their time and money report being significantly happier too.
So, how do you use an affirmation? Simple! Take time in the morning to write it down. Put it on a small piece of paper, and look at it a few times a day, and read it to yourself. Over time, the negative beliefs you hold on money and your financial skills will be replaced by positive thoughts, and your new, improved financial choices will be easier to make.
If you're working on new ways to spend less and live more, an auto pawn could help. Call your nearest Title Tree location for help now.