Have you been struggling to spend less money on groceries?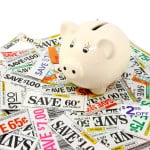 There's no magic formula needed to spend less on groceries, and you don't need to devote hours to coupon clipping. Though it seems like a new extreme sport, shopping for bargains shouldn't take over your life. Instead, take a few minutes to set up the devices you already own to alert you to the best costs available.
Get into the habit of spending less on groceries with the following tips: 
1: Spend less on groceries by starting with a list.
While there are senators railing against the cost of premade sauces or packaged foods, these items are popular for a reason. Some of us slave all day and want to relax—as well as eat—once we get home. Planning your budget around work-intensive foods requiring all-fresh ingredients would be excellent for your budget and health, but you won't save any money if they go to waste. Make a list of the things you really buy, and then you can get started on where (and when) to buy them.
Over time, you can work on replacing these items with more affordable options if you'd like. Just don't be surprised if you find fresh ingredients cost more than the prepackaged versions. When it comes to food, you pay more for quality. Thankfully, farmers markets and co-op buy-ins give you access to produce at a major savings.
2: Save on groceries when you compare prices.
Couponmom.com has a database of online price books. Select a store and enter the name of a product, and you can find the price, along with when during the year the price was lowest. These books provide a cheat sheet for people who'd like to stock up on cheap name-brand items without being tied to coupons. You can feel confident making those big buys without seeing the goods cheaper a week later. Just make sure you compare all of the stores in your area, as they often run competing sales.
You can also create your own price book by periodically visiting stores and recording their prices. The Simple Dollar provides step-by-step instructions on how to do this over your smartphone using Google Docs, making it easy to update your prices on the go while you're in the store. However, there are many ways of doing this. You can use a small pad and paper or you can transfer the info to a full-sized Excel spreadsheet.
3: Cut your grocery bill by going mobile. 
Mobile apps can help you save a bundle. Another coupon resource, TheKrazyCouponLady.com, covers the latest mobile apps shoppers can use to save on grocery prices. There are rebate apps allowing users to scan barcodes or their receipts in order to cash in on deals. Others help you collect all of your loyalty store program benefits all in one place. Whatever the case, as long as you have a fairly up-to-date smartphone, you will be able to access big savings at the push of a button. Unfortunately, if used the wrong way, some of these apps can cost you money.
The reason apps can encourage you to bloat your grocery budget is very similar to why so many shoppers shy away from clipping coupons. It can be easy to buy an item just because it's on sale. Unfortunately, if the item isn't something you'd really use, it doesn't matter how much you're saving. For that reason, certain rebate apps allow you to search by name brand or product or search for rebates and online coupons based on an established shopping list.
Visit your nearest Title Tree store for more tips on spending less on money groceries – or if you need a little help making ends meet right about now.