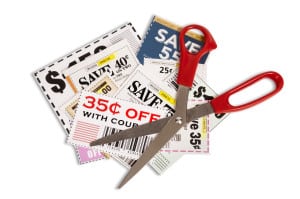 Coupons can help you spend less on the groceries you buy every day. Coupon day is especially big business in the newspaper world, with savvy shoppers getting several copies to fully cash in on deals. Unfortunately, most people don't really know how to use coupons effectively. It seems the more tools we're given to save money on groceries, the less we understand how to use them.
Follow these simple tips to spend the least possible on your favorite foods:
Get newspaper coupons.
Once or twice a week, your local paper will deliver coupon circulars. You want all of them. The first mistake bad couponers make is ignoring coupon day or only clipping a few offers. Take the entire coupon mailer, write the date on it and stick it in a drawer or envelope for safe keeping. If you don't want to buy the paper, ask a friend or neighbor if you can have their circulars. Despite the rise in popularity of online and mobile coupons, manufacturers haven't abandoned print business.
Download money-saving apps.
There are several apps available for iOS, Android and Windows which allow you to get credit for your purchases. Ibotta and Checkout 51 are two popular resources mentioned frequently on sites like KrazyCouponLady.com. They log your purchases and offer you cashback and similar rewards over time.
Look for quality coupon websites.
CouponMom is famous for her Extreme Grocery Deals, with data broken down by state. Just sign up for free, click to Georgia's extreme deals and you'll see a list of foods that are currently on sale and have a coupon available that brings prices down by at least 50 percent. Others are down by more than 100 percent, meaning you actually get money back.
Clip online coupons.
While visiting places like CouponMom, you'll find out about online manufacturer or store coupons you can use for securing more deals. Make a note of them, and take a minute to print them off before you go shopping. Many of these can be printed off twice, but they can't be photocopied. Other sites allow you to send coupons to a mobile device, but many businesses still can't honor digital coupons, so you might want to ask before going to the trouble of collecting them. Once printed, put them with your newspaper coupons.
Get your weekly grocery list, gather your coupons and go shop.
Right away, some readers may complain that the coupons don't relate to anything they'd usually buy. Who cares if ramen is 3 cents a packet if you'll never eat it? In this way, extreme couponing encourages you to expand your tastes, but obviously, if you're turned off by something, you shouldn't buy it.
Log your purchases.
Now that you have resources like Ibotta, put them to use. Whether you're snapping a copy of your receipt or logging sales totals into a website, take a few minutes to secure your rewards. Waiting can mean losing a receipt or forgetting about a sale, so make sure to make it a habit.
Build a meal plan around your cheap grocery items.
Spontaneity can be fun, but it rarely leads to lower grocery bills. Make a plan for the upcoming week based on the cheapest ingredients or prepackaged foods you could find. You'll wind up eating a wide variety of foods while spending the smallest amount possible.
Shop for other groceries online.
While many of the grocery stores offer online purchases, there are a few outfits that excel at providing food savings delivered right to your door. Among the best is Amazon.com's Pantry program. You can save significant money buying non-perishables in bulk, and with Amazon Prime's free shipping, you can get your food items in 2 days or less at no extra cost.
We hope these tips on how to spend less on groceries will help you stretch your budget farther than ever before. However, if you run into the need for extra funds, Title Tree is always here to help you. Even if you're working to save money by spending less on groceries, you may need a title pawn to help you in the meantime. Come on in to Title Tree, and we can help you get the cash you need.