How do you spend less on your groceries and still keep your family full?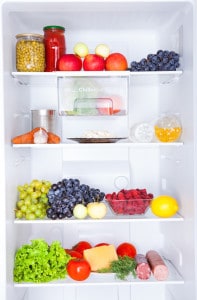 Spend less on your groceries? Whether you have an entire houseful to feed or just yourself, it can be a challenge to shrink your food bills. At least, the initial idea is an obstacle. For many, food is one of those items you just don't cut back on. You spend your money wisely and buy the highest ingredients available. However, even if you eat as organic, vegan and gluten-free as possible, there are ways to save mega cash in the process!
Follow these tips and you'll find yourself eating more for less every single month:
Check out weekly grocery specials.
Most chain stores release weekly specials on meats, fruit, and other items that generally cost a bundle. According to Money, creating a weekly meal plan around these deals can save up to half-off your regular grocery bill. If items are easy to freeze, you can wind up saving on a popular item all month, just don't go overboard. Hoarding food often leads to needless waste, and it prevents other savvy shoppers from taking advantage of deals they may depend on to eat well. Not everyone is community-minded, however, so be sure to get to stores the day they announce their budget buys.
Check your pantry before shopping, and spend less on your groceries.
Take stock of what you already have before you go shopping. Utilize apps like Superfood and Out of Milk to track what food you have on hand and how to make the most of it. Not only does this save roughly a quarter of the groceries you buy from going bad, but it will also save a chunk of your budget. These apps help you devise a weekly meal plan that puts your investment to its best use. In need of new recipes? Try MyRecipes.com for easy searching based on ingredients you already have in your fridge.
Make a shopping list.
Putting together a grocery list based on the meals you intend to make during the week is an excellent way to spend less on your groceries once you get to the store. Winging it is an easy way to be influenced by grocery store advertising and layouts. Stick to your list, and you'll buy just what you need. Also, take the time to plan your route through the store, avoiding unnecessary aisles.
Skip gourmet grocery stores.
In many medium-to-large cities, you'll find gourmet delis, grocers, and bakeries. These shops tend to charge much more for top-tier ingredients, but you'd be surprised where else you can find the same brands for less. Amazon, for instance, carries specialty items like Beemster cheese and Busseto salami, along with an extensive selection of items for those with special diets. They have options for vegans and vegetarians, organic and kosher dishes, and for those with food allergies, such as gluten-free meals and ingredients.
Shop for groceries on your own.
You'll cut down on unplanned purchases and spend less on your groceries if you shop solo. It gives you the chance to take advantage of many tricks for spending less on your food. Use smaller-sized carts. Listen to your own music. Make sure to snack before you head to the store. Is shopping on your own not possible? Check out the personal shopper options in your area. Several store chains allow you to shop online and still get the benefit of weekly specials. Then you can pick up your order or have it delivered for a small fee. The small investment leads to big savings.
Even if you're working to save money while learning how to spend less on your groceries, you may need a title pawn to help you in the meantime. Come on into Title Tree, and we can help you get the cash you need.