This school year, are you wondering how to stretch your Back to School budget?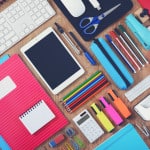 Learning how to stretch your budget to pay for annual expenses is a hard lesson to learn. Monthly bills are easier to handle because they're so regular they become part of your routine. You can get a jumpstart on next year's school supply costs by putting away a little money every month. Until then, here are some tips on how to buy all of the supplies you need for less than expected.
Follow these tips to stretch your budget for back to school shopping:
Buy school supplies at the right time in Georgia
Wait for the right time to buy things. According to About.com, there are two Georgia Tax Free Weekends during the year for parents to shop for school items. The first is at the end of July and the second is in October. However, the way they are legally structured compared with the way stores use them for sales promotion can leave parents confused.
From July 31 – August 1 in 2015, parents were able to forgo paying taxes on clothes or shoe purchases up to $100. The same thing will happen from October 2 – 4 on EnergyStar and Water Sense purchases of up to $1500. That's a savings of up to 12 percent, depending on where in the state you're shopping. Not surprisingly, many stores jump on the bandwagon and promote big sales during the tax free weekend to draw your attention away from another store.
Unfortunately, there's no law against hiking prices during these sales, so you may actually wind up spending more during a tax free weekend. It's important to keep an eye on real prices so you know whether or not you're getting a good deal. President's Day and Labor Day sales may actually be more of a bargain.
Save on school supplies with a smart list
Make a shopping list, and break it down. The list of supplies your child needs can now be found online at major retailers like Amazon. Download a list or create your own based on experience, and then go through each item. Sort them into groups based on whether you already own something, whether you'll need something for just this year or whether you'll be able to use it long-term.
It's safe to bargain shop for anything you'll only need for one year. Washable markers, glue sticks and other consumable supplies can be found after the start of the school year at extremely low prices. Those items expected to last year after year should be purchased with care. For items intended to be long-term investments, look for the best value on the best options available instead of the lowest prices you can find.
Using those same school supply lists, you can get a head start on supplies for next year. Just use the list for child's next grade level. Shopping a few weeks after school begins gives you access to the season's lowest prices. You can save more than half on your school supply expenses by tapping into post-back-to-school-sales.
Save on school clothes shopping
You can often find great bargains on clothing at big box stores, but it helps to consider what they're really worth. How many times can your child wear a shirt before it starts pilling or pulling apart? How will you need to wash it to preserve its quality? Sometimes, buying from higher priced department or specialty stores is your best bet.
Also, because the latest trends at your child's school might not pop up until the first month or so into a new year, it's a good idea to spread out clothes purchases. This is especially helpful since most clothing stores don't have their biggest sales until after school has started. Additionally, this will help prevent your children from outgrowing all of their new clothes at the same time.
You can get special discounts online by signing up for newsletters and special offer alerts. You can also use web- and mobile-based apps to track available pricing. For those looking for the biggest savings, local Facebook buy and sell groups are a good source for used high-quality kids clothing available at bottom dollar.
It can take time and practice to learn how to stretch your budget for once-a-year costs. If you need a bit of wiggle room, a title pawn can help. Call or visit your nearest Title Tree store to find out what you need to qualify today.