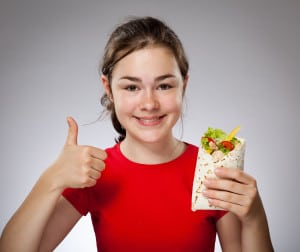 Learning how to stretch your food budget as your tweens turn into teens really is a challenge. If your children are still in grade school, you may not understand why this is such a pressing issue, but once they pass into adolescents, you'll be amazed by how quickly your cupboards are cleared. Use the following tips to keep them full of good, hearty food while protecting your wallet.
These tips will ensure you fill the kids' bellies with good food without going broke:
• Plan all your meals in advance. One of the easiest ways to save on groceries is by planning your meals. Do it practically, so you're likely to make every meal you plan. Make sure they're easy to make, easy to clean up after and make sure you have no-cook options on hand for those nights when you're really exhausted. Eating at home is the absolute best method for cutting back on food bills, and having a menu plan goes a long way in fighting the urge to stop for burgers.
• Use online tools for building recipe and supply lists. One of the best resources available for frugal cooking is MyRecipes.com. The site allows you to sort through all different types of meals—including no-cook, slow cooker and 15 minute recipes. You can also choose among their preselected meal plans for ultra-convenience. Once your meal plan is created, use the site's features to generate a shopping list.
• Stock up on healthy snacks. Filling foods that are easy and fast to prepare are perfect for teenagers. Apples, oatmeal and soup pack the biggest punch. Hard-boiled eggs, cheese slices and vegetable plates can easily be prepared in advance for after school snacking. Ham and bean soup is just one meal you can prepare and serve in a crockpot, or store in the fridge for easy reheating.
• Stay hydrated. Also, picking up a cheap water filtering pitcher will help you keep chilled water on hand. As most hunger pains are linked to dehydration, encouraging this habit among your teens can potentially save you a lot of money.
• Stop up on specials. Sites like CouponMom.com help make extreme couponing easy. Not only can you see what sales are in your area, the site combines those prices with available rebates and manufacturer coupons. Then, they're listed in order of percentage off. Trying to do all your shopping this way might exhaust you, but scanning the list for good deals and investing in one special bulk purchase can save you a significant amount of money down the road. This is especially true if you have money to invest—or if you can access funds through short-term financing.
• Buy your groceries through a delivery service. For general shopping needs, a delivery service is an easy way to save money, even though it may not seem that way at first. For starters, you wind up buying only what you need. You also won't want to go back to the store for missed items because you've already paid a delivery fee. At the end of the day, however, the cost to have your groceries compiled, purchased and dropped off at your door can be just $5 to $10. The convenience can make the expense worth it all by itself.
• Serve supper early on. While busy families often leave meals until 8:00 or later, it's not beneficial for digestion or keeping bills low. A filling supper served by 6:00 p.m. can be supplemented by affordable and filling snacks like nuts or popcorn.
• Stay away from sugars. Junk foods, candy and many preservative-packed items are high enough in sugar to create a blood sugar spike. What goes up must come down, however, and when blood sugar falls, you get hungry. While it's fine to have a few sugary snacks now and then, try to come up with healthier alternatives. Instead of candy bars, for instance, try granola bars. Instead of candy, consider raisins or pretzels covered in chocolate-flavored yogurt.
If you're working on learning how to stretch your food budget to feed your growing kids, an auto pawn could help. Call your nearest Title Tree location for help now.