Know how to stretch your grocery budget when you're feeding a holiday crowd?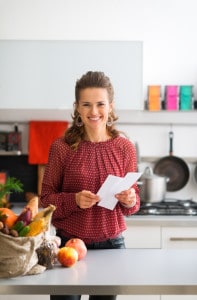 Learn how to stretch your grocery budget while you're creating a Thanksgiving feast. With just a few tweaks, you'll be able to cover all the basics and still walk away with money in the bank. Title Tree can help! Take advantage of a few tried-and-true methods for big meal management.
Spend the least possible on a satisfying holiday spread with these simple tips:
Get Organized and Save Money on Your Thanksgiving Dinner
Create a formal dinner plan for what you'll be serving. Choose foods known for being delicious, filling and low-cost. Mashed potatoes, stuffing, green bean casserole and candied yams are all affordable favorites. If guests offer to add to the meal, make sure you coordinate what they bring, so everyone's effort is put to its best use. Afraid that someone will be unreliable? Relegate them to dessert items or garnish.
Save Money on Your Thanksgiving Turkey
According to AllRecipes.com, nearly half of your Thanksgiving dinner budget is normally spent solely on your turkey. You can save big by purchasing a frozen bird. Stick to your local grocery store's brand, and try to cash in on coupons. Some chefs shy away from frozen turkeys because they're unsure of the best thawing methods. Just make sure you set aside an hour of refrigerator time for every five pounds of frozen meat you have to thaw, and you'll have everything ready in time.
Create a Co-Op, Spend Less at Thanksgiving
You can save a bundle on staples like butter, sugar and eggs when you buy them in bulk. Best yet? These are ingredients every household needs during the holidays, so creating buying co-ops among friends is simple enough. Figure out how much you'll roughly need and ask a fellow Thanksgiving host (or two) to go halfsies.
Weekly specials are a popular way for grocery stores to bring in regular shoppers. Take advantage of these deals when stocking up for big holiday dinners. Just don't take the bait. Once you've gotten your fill of sales items, head to your regular grocery spot to buy the rest of your groceries. Several sites online, like CouponMom.com, keep pricebooks for major chains in all regions so you always know you're buying meal items at the lowest cost.
Forget Pre-Made Thanksgiving Food, Save Money
So many of the items you'll be tempted to buy for Thanksgiving boil down to convenience. Anyone can make their own breadcrumbs for stuffing, pie crusts or whipped cream for pennies compared to what you'd spend in the store. Unless you have access to spectacular deals for these kinds of items, bite the bullet and spend a few extra minutes preparing them on your own.
Save Money at Thanksgiving by Hosting a Potluck
If you've got the space in your home – but not in your budget – for a holiday feast, take full advantage of offers from friends and family and host a Thanksgiving potluck. Our friends at DoItYourself.com had some advice to share on putting together the perfect menu for 12 adults and 5 kids, including recommendations for veggies, wines and seasonal desserts.
Standout points? The host is generally responsible for preparing the main dish. If you're making turkey, you're generally responsible for the stuffing too, as these two items are often prepared together. Also, make sure your guests know what you expect. Coordinate dishes so no staples get left out, and make sure people know if they're responsible for special serving items, like pie cutters.
Thanksgiving is a special day of thanks, but it's hard to feel grateful with an empty bank account. Make sure you're making a reasonable sacrifice to host your family and friends. Be reasonable with your menu and budget, and make sure to put any offers for help to their best use with solid planning. Remember, there's no minimum amount that needs to be spent in order to enjoy holiday dining.
If you're working on learning how to stretch your grocery budget, an auto pawn could help. Call your nearest Title Tree location for help.
Customer Referral Program
How would you like an extra $100? With Title Tree's Customer Referral Program, you will be helping your friends to get connected with a title pawn company they can trust and potentially lining your own pocket with some extra cash! Call one of our four convenient branch location to refer a friend today.