Know how to stretch your household budget to meet your family's growing needs?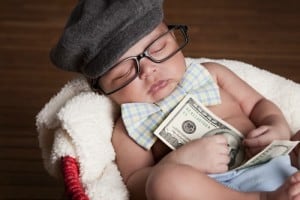 Learning how to stretch your household budget for the sake of a new baby can be a big adjustment, but it doesn't have to be an uncomfortable one. In fact, it shouldn't be. Money stress won't reinforce bonding, so follow these steps in order to take any budget crunch in stride.
Follow these tips to make room for baby in your household budget:
Budget for a weekly date night.
Whether you're into the movies or long walks on the beach, it's essential to reserve funds early on for couple time, even when you're saving up to have a baby. Why? According to The Simple Dollar, modern-day child-rearing practices have a way of leaving marriage high-and-dry, so make sure your relationship stays a priority from the word go. Few things are as taxing on your budget and lifestyle as a divorce.
Renegotiate your loan terms.
Student loans are among the easiest to negotiate. New repayment plans allow for your balance to be spread across up to 25 years. You can try for better rates on any loan, however, and doing so can dramatically reduce your monthly expenses. Just be aware of how those renegotiations change the total amount you'll wind up owing.
Get rid of major monthly payments.
Look at your biggest monthly bills, and consider whether you're able to get out from under them. For instance, you may be able to trade in your current auto for a more affordable model or cancel your expensive cable bill in favor of Roku, or other streaming device. The key here is to significantly lower your bills in ways that won't leave you resenting the changes.
Set reasonable amounts of 'mad money' for every member of the family.
The number one mistake people make when setting a new budget is making changes too severe. Start out small by lowering expenses just 5 or 10 percent to start, and make sure you give family members a small amount of money they can spend on themselves without having to account for it. Leave it up to each person if they blow it or save it for something important.
Save on regular baby expenses.
Breastfeeding is one of the easiest ways to trim your new baby bills, but that doesn't mean bottle-feeding moms can't save money too. According to the Krazy Coupon Lady, one of the easiest ways to get cans of formula on the cheap is to simply ask your doctor's office for samples. The same is true for diapers, diaper ointment and other supplies. In fact, if you're able to stock up while you're at the hospital, many of your baby's first year expenses—including your breast pump, if you need one—may be covered by your insurance.
Focus on a particular savings goal.
Half of the budget battle is keeping track of your spending. With all of the items you can buy for your new baby, it's no wonder new parents struggle with saving money. Planning is key. You don't have to forgo every cut outfit or accessory; just make sure to place a cap on those expenses before you head to the store. Anything over your spending amount should be researched thoroughly before your purchase. The good news is the price of the adorable stroller you see at the store might be seriously reduced online, allowing you to get the items you want without going over your spending limit.
If you're working on how to stretch your household budget for the sake of new baby costs, you may need a title pawn while you adjust. Come on in to Title Tree, and we can help you get the cash you need to make lasting changes for your growing family.