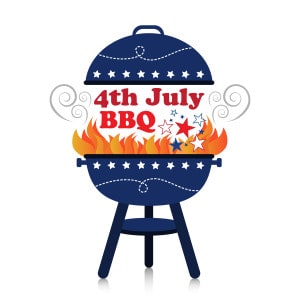 Summer holiday money saving tips depend a lot on your plans. If you're planning on a four-day getaway, you'll need much longer to prepare than if you're hosting a BBQ for friends and family on the 4th of July. Saving for and during a friendly get-together at your home turns out to be pretty easy.
Follow these tips for hosting a brilliantly budgeted backyard bash:
Lay off the expensive cuts of meat. It's a BBQ. Most people are attending more for the camaraderie than for the food, so skip the Porterhouse and mahi-mahi, and settle instead for filets of bluegill, chicken thighs and flank steak. Fruits, vegetables and grilled breads are great side selections, and they can act as main courses with the right seasoning.
Make your own BBQ sauce and dry rub. com has a sumptuous rub made from common household ingredients that—according to reviews—goes with chicken, vegetables, meat or fish. Just add 1 ¼ cups white sugar, 1 ¼ brown sugar, ½ cup salt, ¼ freshly ground black pepper and ¼ paprika in a container. Mix well and apply about 10 minutes before grilling.The best thing about homemade recipes, of course, is their potential to be tweaked to reflect your own tastes. Don't be afraid to create your own recipes. Cheap BBQ sauce is available too, and often it's much tastier and healthier than those packaged for sale in the store. Take a look on AllRecipes.com for more ideas.
Skip beer and pop, and serve sparkling fruit juice instead. Liquor gets spendy quick, and it can introduce other problems. Instead, mix concentrated fruit juices with sparkling water or club soda for a fast, refreshing drink you can serve to the masses on the cheap. You can save even more by making and bagging your own ice cubes in advance.You don't have to go completely without alcohol though, even if you're on a budget. Encourage guests to BYOB, and buy a hilariously cheap case of beer for those who forget. More than likely, they'll go pick up their own, more palatable choices, and next year they won't forget!
Stock up on reusable plates versus disposables. Hit garage sales before the big day, go to thrift stores or beg your friends for their own mismatching dinnerware. Not only will people have a sturdy surface for holding food, but you won't be throwing money into the trash along with your used paper plates. You can also grab a few packets of wooden skewers and stick with kebabs, hot dogs and other foods that don't require any plates.
Stick to a few cheap decorations. It's a BBQ, not a birthday party. Cover your outdoor tables with uber-cheap paper or plastic covers and tie up a handful or two of red, white and blue balloons. If your party will be going past dark you can also consider strings of white lights as a somewhat functional way to keep up the mood.
Create a theme or host simple games to have fun. The most memorable thing about your BBQ won't be what you wore or what your guests ate. More than anything, people will remember how they felt interacting with you and other friends. This means being a present hostess, calm enough to concentrate on your guests and providing them with fun things to do.
Some backyard parties include music and dancing. Others feature traditional summer games like badminton and croquet. A 4th of July party can include fireworks throughout the day, but you can make your own party favors too, like creating your own black snack or colored smoke bomb mixes. Whatever theme you decide to base your party on, make sure there are a few elements worked into every area of your refreshments, food and entertainment.
If you're working on putting summer holiday money saving tips to work, an auto pawn could help; Click to locate your nearest Title Tree location for help now.