Know how to throw a wedding on a budget without sacrificing your big day?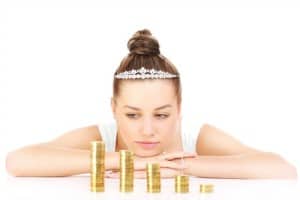 Modern-day brides, we know you want to know how to stretch your wedding budget without sacrificing your dreams for your big day. It's possible, but there are some caveats. Prioritize each purchase you make, and be sure to use common sense when it comes to hiring your service providers.
Here are the top ways to save thousands off your wedding and still wind up with the celebration of your dreams:
Save money with a winter wedding (unless you're in the tropics).
In many locations, summer is the most popular season for weddings. You'll save a bundle just by scheduling your ceremony in the off-season, with winter weddings offering the biggest savings. You can stretch your wedding budget even more by avoiding Saturday bookings. According to Buzzfeed, the Sunday before a federal holiday can be convenient for your guests and especially easy on your pocketbook.
Save your wedding budget by selecting a versatile venue.
Weddings become so hectic – and so expensive – because of the dozens of tiny details needing to be managed. Selecting a location for your ceremony capable of doubling for your reception hall saves a considerable amount of money and time. However, you can take the concept two or three steps farther. Brides have hosted their weddings in refurbished cathedrals, taking advantage of a chapel, meeting hall and on-site lodging. Others have hosted their receptions in restaurants featuring their own upscale décor and food selection. You may even be able to merge your site in with your honeymoon.
Cut wedding expenses by using a dummy cake.
Instead of a $1000 three-tier wedding cake, ask a professional cake designer to create a fake instead. A cardboard cake will cost a fraction of the price. Have a small top-tier for the cutting ceremony, and then serve traditional sheet cake or cupcakes to your guests.
Save money on wedding flowers with your grocer.
Many grocery stores contain a flower shop, and believe it or not, they can offer quite a discount when you're buying in bulk. Order your flowers independently, and construct your own bouquets in order to save a bundle. You can also conserve flower costs by designing arrangements you can easily move from your wedding ceremony to your reception hall, securing florals for two events for half the cost.
Cut costs, order wedding accessories online.
Amazon is an excellent source for wedding accessories. Everything from cummerbunds and pocket squares to ribbon and personalized mints can be found on the site. They're also a trustworthy source for larger used items, such as photo booths or high-quality costume jewelry for your bridal party. However, because many of their cheapest suppliers are located overseas, it's important to keep track of shipping dates. You may also save on a Prime membership, which gives you free two-day shipping on select items.
Save on your wedding by serving sparkling water, soda, and wine.
Wedding planning professionals often caution against hosting an open bar, regardless of whether you're trying to limit your budget. Both cheap beer and top-shelf spirits have a tendency to cause problems, and they'll come with a hefty price tag if your venue is damaged.
Skip the wedding gown purchase and save money.
A recent trend with huge savings potential comes down to a simple issue of labels. Bridal gowns demand top-dollar, but dresses for bridesmaids are often very similar in design and cost a fraction of the price. You can often find a very affordable seamstress willing to add flourishes if the bridesmaids dress you like doesn't stand out enough.
Cut wedding expenses with an amateur photographer and videographer.
Digital photography has flooded the market with photog semi-pros looking to pad their portfolios. As long as you take time to evaluate someone's existing work, you can wind up saving big. Just be careful. One bride found her $10 wedding picture package paid for a photographer who showed up late, drank until she couldn't walk straight and then never delivered her pictures. Thankfully, a photo-fanatic in the family had plenty of shots to share.
It can take time and creativity to learn how to stretch your wedding budget. If you need a bit of wiggle room, a title pawn can help. Call or visit your nearest Title Tree store, and find in minutes if you qualify for our convenient financing.