To show their customer appreciation this holiday season, the team at the Title Tree Lilburn Branch announces two holiday drawings for monetary gift cards.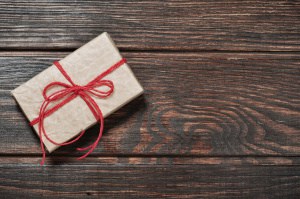 As the sights and sounds of the holidays begin to surround us, Title Tree's Lilburn Branch is planning for a few special drawings to bring holiday cheer to our valued customers. We enjoy working with you year-round, but the holidays present the perfect time to show our appreciation in a tangible way—with gifts!
That's right, we want to announce Title Tree Lilburn will have Thanksgiving and Christmas drawings with five qualified customers winning gift cards to help with holiday shopping, holiday travel, higher utility bills or really anything you need! We know that expenses this time of year get tight, and we hope this giveaway will bring some much-needed relief to the winners.
Our entire office is buzzing with excitement over these giveaways, because we can't wait to give back to the customers we appreciate so much. At Title Tree, we view our customers as part of our family, so being able to take some time to share the season of giving with you brings great joy to us. We can't wait to announce the lucky winners of our drawings!
There will be two days of giveaways with a total of five winning customers. Here's what to expect from the drawings:
Thanksgiving giveaway will take place on November 24, with Lilburn Title Tree employees drawing the name of three qualified customers who will each win a $65 gift card.
Christmas giveaway will take place on December 20 with two customer names being drawn from the box to win a $125 gift card.
In order to qualify for an entry into these holiday drawings, Lilburn's Title Tree customers need to meet these qualifications:
Be a new or returning customer.
Submitted the most recent loan payment by the due date.
Recently added money to the loan.
See how easy it is to qualify? If you are qualified, just come on down to the Lilburn Branch at 4895 Stone Mountain Hwy, STE D, to enter your name into the drawing box. If your name is drawn on either November 24 or December 20, one of our employees will contact you by phone to let you know you can stop by the office to pick up your gift card.
Whether You Want a Holiday Giveaway or Holiday Cash, Lilburn Title Tree Has You Covered
When you come in to see us at Lilburn's Title Tree branch to get your entry in for the drawing, go ahead and ask us about our holiday cash loans. Whether you need extra money for a few special gifts for loved ones or holiday travel or funds for higher utilities and other costs that crop up this time of year, we can discuss the best options for your unique situation.
You can always expect to find a friendly, professional Title Tree employee ready to help you. We pride ourselves on offering individualized services catered to your needs.
Our loan qualification process is super-fast and simple, which we know is important to you during this busy time of year. If you plan to take out a new loan with us, please be prepared to bring us your car title, vehicle, government issued identification and proof of income. Within 30 minutes, we will be able to give you your loan, and you can drive away with your car and cash in hand.
For more information about our quick cash loan process or the Thanksgiving and Christmas holiday giveaways, contact us today at 770-741-2100 or stop by and see us at the Title Tree Lilburn location at 4895 Stone Mountain Hwy, STE D.