You'll save a bundle after reading these tips on how to stretch your wedding budget.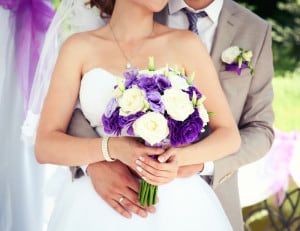 Learning how to stretch your wedding budget isn't as complicated as you think. No one needs to go to an extreme sacrifice either. Many of the smaller details of your wedding won't matter to anyone else but you, and once you're faced with the expense of all these odds and ends, you may decide they don't matter much to you either. Whenever you plan a big event, you're going to run into financial hiccups. Learn how to curb your expenses to provide for these budget busters and more.
Break Down Your Wedding Budget
If you're using a wedding planner, you may not have an itemized total in front of you when discussing options. Make sure you ask for one before you make any decisions. Comparing caterers may be a lot easier when you realize how many of their package add-ons can be cut.
Skip the Servers at Your Reception
According to MoneyCrashers, most guests won't care as much about presentation as couple's think. Hiring servers to cart around drinks and hors d'oeuvres is often a wasted investment, and between uniforms and man hours, this expense quickly adds up. Skip the servers and opt instead for a serving table manned by a single person. Looking to really save cash? Ask a friend to volunteer.
Or Skip a Sit Down Meal Entirely
A popular alternative to skipping servers is to skip your sit-down meal entirely. Instead, have servers deliver a generous number of canapes to your guests, each more rich and filling than the next. The model is perfect for large weddings or locations with impressive scenery.
Customize Your Open Bar
An open bar is often a money pit, but they're a necessary evil in certain locales. If your venue doesn't allow you to stock the bar yourself, see if you can limit what they offer your guests. Stay away from liquor – both expensive and prone to creating drunken guests. Opt instead for a signature drink or a small selection of wine and beer to stretch your wedding budget.
Ask for Donations From Family and Friends
No, not in your wedding invitation. The Simple Dollar provides you with many tactful and tasteful ways to ask your friends and family for help. From borrowing stereo equipment to asking friends to pitch in with making your invitations, there's nothing quite like communal sweat equity to lower your wedding bills and stretch your wedding budget. And if you're getting married in a church? Feel free to ask the Ladies' Auxilary for help.
Be Vague With Venues and Wedding Service Providers
Meeting halls, florists, photographers, musicians and others may expect you to pay a premium because you're getting married. Wedding and high prices tend to go hand in hand. To save big, you'll have to challenge the status quo. Keep the particulars of your wedding budget and party plans private until after you've booked a location or service provider for your big day. If they change their rates after you let them know you're having a wedding, make sure they're providing something extra to justify the increase.
Save by Getting Married in Winter
Getting married in the off-season will automatically lower your expenses by roughly 15 percent. Venues could be half off or more. The key is avoiding a conflict with winter holidays. You want to aim for a winter wedding, not one themed for Christmas or Valentine's. You'll also want to be mindful of the weather, according to BridalGuide. If you're planning a winter wedding, it's best to go the extra mile and get insurance.
It can take time and practice to learn how to stretch your wedding budget. If you need a bit of wiggle room, a title pawn can help. Call or visit your nearest Title Tree store to find out whether you qualify.