Is it possible to save money on fast food? Who Has the Cheapest Fast Food, Anyway?
Do you know all the secret ways to save money on fast food? With so many restaurants competing for your business, it's pretty easy to get a full meal with a limited budget. Even if you only have a couple of dollars to your name, you can pull up to the drive-thru window with confidence. It helps to know who has the cheapest fast food. Here's the scoop:
Be on the Lookout for Dollar Menus
What can you buy for a dollar these days? Almost nothing. However, at many fast-food restaurants, a buck will buy you at least one tasty item off the dollar menu. For around $5, you can purchase enough food to feed two people with average-sized appetites. And if you have bottomless teenagers, dollar menus make it possible to pick up a hearty feast for very little cash.
Many experts credit Wendy's for beginning the dollar menu craze. Back in 1989, the fast-food giant priced every item on its menu for only $0.99. Their menu has since changed, but today, Wendy's still has several food options for $1-2 on their "Value Menu," including the popular Jr. Hamburger.
Other fast-food joints also have their own versions of the dollar menu. At McDonald's, you can choose from a list of beverages, side items, and sandwiches on the popular "$1 $2 $3 Dollar Menu." Taco Bell also has a value menu with several one-dollar items, including a variety of nachos, burritos, and quesadillas.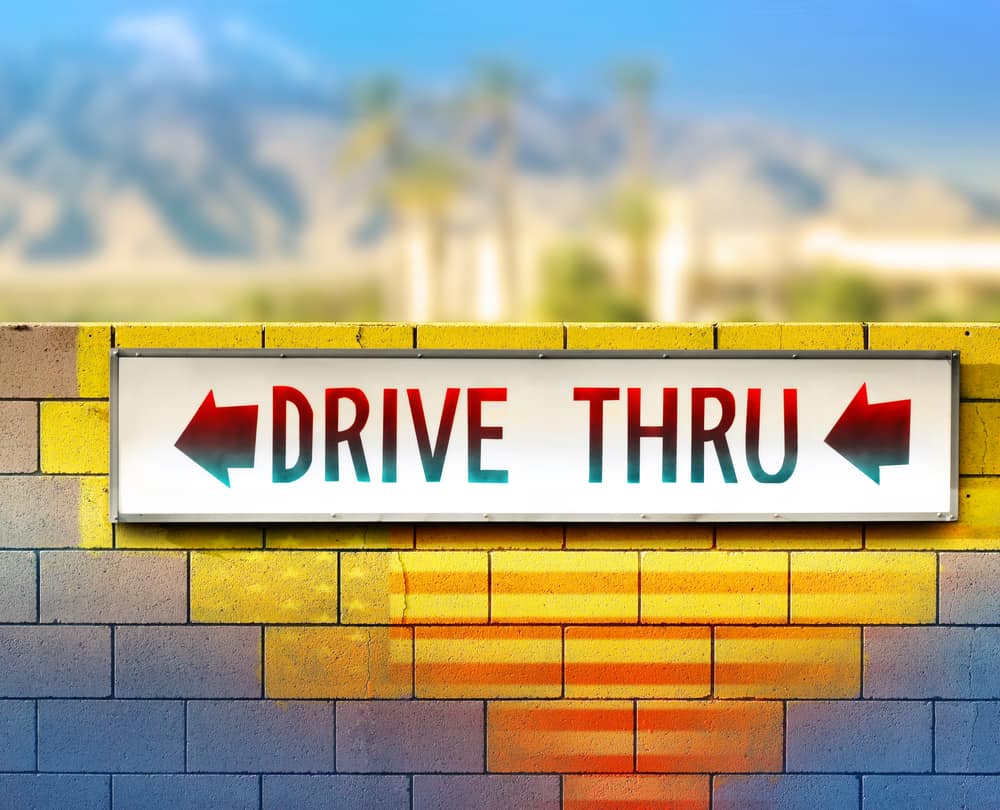 Remember to Download the App
Nearly every well-known fast-food restaurant now has a corresponding mobile app. Some apps allow customers to skip the wait and order online, while others offer rewards programs. You may even find surprise coupons or app-only deals. No matter what types of food you crave, it's worth downloading the app to see what the restaurant has to offer.
Burger King likes to reward its app users with a range of incentives. When you place your order through the app, you may qualify for an exclusive deal, such as a buy-one-get-one offer. Other customers report earning free food. Nothing tastes better than a free Whopper!
Chick-fil-A has a rewards program available to all customers; however, app users benefit from it the most. Customers earn points for each purchase. If you place an order through the app, the system automatically adds the points to your account. The rewards program operates on a tiered system, so the more you eat at Chick-fil-A, the more offers you'll earn. Some of the rewards include discounts and free meals. It pays to be a tech-savvy consumer!
Save Calories and Cash with a Kid's Meal
A lot of people avoid fast food because they assume it's unhealthy. While that can be true, the real problem is actually portion control. Americans tend to order more food than they should eat. The average adult only needs about 2,000-2,600 calories a day and a meal at a typical fast-food restaurant may run upwards of 1,000 calories! 
If you want to keep both your waistline and your wallet happy, consider ordering a kid's meal. A hamburger Happy Meal from McDonald's, for example, has about 475 calories for a sandwich, fries, drink, and fruit. Even better, this filling meal will only set you back about $4-5!
Most fast-food establishments have kid's menus, and they also don't care if adults order from them. Even if the menu specifies "12 and under," no one will card you! If you crave something simple, Subway sells smaller versions of their classic sandwiches. At Panera, you can purchase a child-sized soup or sandwich for about half the price of an adult serving. Pretending to be a kid will help you keep more money in the bank—and you may even get a free toy!
Don't Throw Away the Receipt
Do you usually toss fast food receipts when you throw away the wrappers? Before you do, make sure there isn't a survey opportunity listed on the bottom. Most of the time, spending a few minutes to take a survey will pay off in the form of a free drink, side item, or even a burger! Chick-fil-A, for example, often gives away free breakfast items and nuggets for completed surveys. Your responses are important to restaurant managers, so they want to reward you for your time.
Taco Bell almost always prints a unique survey code on each receipt. However, instead of offering a food incentive, the restaurant enters all surveys into a cash drawing. Yes, you could win up to $500 for five minutes of your time. The odds of winning depend on the number of entries received—the more you eat out, the better your chances!
If there is a survey on your receipt, make sure to fill it out right away. You usually only have about 48 hours to do so. And if you do receive a free food coupon, make sure to redeem it before the expiration date.
It Pays to Read the Sunday Paper
You'll find plenty of fast food coupons each week in the Sunday paper. Restaurants hide these money-saving gems in the circulars, so be sure to flip through each section carefully. While most of the weekly offers are for BOGO deals, you may be able to find the occasional freebie as well.
If newspapers aren't your thing, you can still get coupons—you just have to know where to look. Sign up for email offers from your favorite fast-food restaurants. You never know when a coupon will land in your inbox. Starbucks, for example, sends out a free drink coupon every year on your birthday. Coupons can save you money in more places than just the grocery store!
Save Money the Next Time You Order Fast Food
Even if you're on a tight budget, you can still splurge in the drive-thru without going over budget. These money-saving hacks will help you get the most food for your buck. Who sells the cheapest fast food? There is no one answer to that question. The prices at fast-food restaurants change regularly, so prepare yourself to try some new places if you want the best deals.
On those nights when you don't have the energy to cook a meal at home, taking the family out for a quick meal may be the best solution. It helps to know who has the cheapest fast food. Even if you're working to save money on fast food, you may need a title pawn to help you out in the meantime. Stop by Title Tree, and we can help you get the cash you need.