What are your favorite ways to save money when you travel?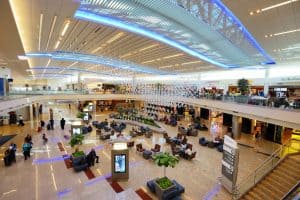 Learn how to save when you travel for the holidays without sacrificing quality. While some of the deals you find online aren't what they seem, there are ways to get the best prices on flights, hotels, and activities while planning a high-value vacation.
How to Save Money on Flights
The cost of flights can bankrupt your budget if you're not careful. In fact, you might find you have to plan your trip around the lowest flights available. Driving, taking a bus, or riding on a train can be more affordable, but the savings don't always make up for the time you lose.
Discount airlines like Frontier, JetBlue, and Southwest provide some of the cheapest tickets in the United States. You can't always find them listed on Expedia, Orbitz, or other online booking portals. It's often best to book directly with your airline of choice.
You can try a site like Skyscanner.com, which has a comprehensive list of flights between destinations, even for the smallest airlines in operation. They also allow you to plan a trip around your budget by searching for the cheapest flights out of any airport and the cheapest dates between locations.
Charter flights are another option for discount hounds, but they're harder to find. Travel suppliers like Apple and Funjet package flights and hotels in affordable bundles which can lead to considerably lower transportation costs. You might need a travel agent to score one of these deals, but it shouldn't cost extra to take advantage of their services. Just watch out for expensive add-ons you haven't requested.
How to Save on Hotels
One of the easiest ways to save on hotels in today's market is by keeping an eye on coupon sites, like Groupon or LivingSocial. You can also look for deals from chain hotels and resorts. For example, Great Wolf Lodge is just one major supplier posting regular deals. These discounts cut the price of rooms by 50 percent or more. Of course, there is a reason why. Many hotel properties benefit from guests eating on-site or investing in spa or entertainment services. You can take advantage of the discount pricing, as long as you don't spend it on expensive meals and spa treatments.
A word on resorts in high-demand: If you're booking a room in an area expecting large crowds, avoid online booking portals. These websites often oversell rooms at discount prices, assuming some travelers won't show up. The problem? If everyone makes it to the hotel, you could lose your room! Worse, they might not reimburse you.
How to Save on Rental Cars
The rental car business is suffering due to the rise of rideshare companies, like Uber and Lyft. Take advantage of the promotional deals they're using to attract business. Just watch out for shady practices some outfits are using to cash in on the goodwill of their customers.
Damage fraud has become widespread in the industry. When possible, have an employee from the rental company acknowledge the condition of your rental car in writing before you drive off. If you're picking a car up from an unmanned lot, thoroughly document the condition with cell phone photos and message them to the company's Twitter or Facebook account. Do the same when you drop the car off.
Car rental insurance covers damages, but it's also expensive. It could be unnecessary as well. Your regular car insurance or the credit card you're using to pay for the rental might have rental insurance benefits.  
Debit card users? It is possible to rent a car without a credit card, but you'll need some extra cash on-hand. Plan to put down a safety deposit in the amount of several hundred dollars. The procedure for getting it back depends on the rental company, so make sure to check in advance.
It can take time and practice to learn how to save money when you travel. If you need a bit of wiggle room, a title pawn can help. Call or visit your nearest Title Tree store for the best customer service in town and to find out whether you qualify.